Decorating Graduation Caps
Mar 18, 2016
by Natalie, Customer Service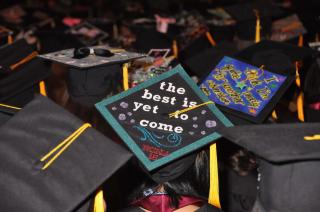 It's almost that time of year, the moment you've all been waiting for…GRADUATION! Whether you are graduating from high school or college, the excitement and anticipation is all the same. With graduation day approaching, we thought it would be a good idea to give you some tips on how to keep busy in preparation for the big day.

One of the most popular activities amongst graduates is decorating graduation caps. Before making any extravagant plans, make sure to check with your school about what is allowed, and always make sure that it is appropriate.

For high schoolers, a recurring theme amongst classmates is the college in which they will be attending in the fall. You can print out a photo of the school mascot or make your own official logo using decorative paper, paint, or glitter. Another great idea is to get together with a group of friends and decorate matching caps. This might be fun to do if you and your friends participate on a sports team, the school play, band, or any other club.

Most college students like to celebrate their accomplishments through shout-outs to their parents, clever puns, quotes or pop culture references that might relate to their specific degree or their time spent at school in the last few years.

Many of the themes for college graduation caps include references to Harry Potter, Spongebob, Disney, F.R.I.E.N.D.S., and other popular movies or TV shows. However, some of the best caps I've seen are the ones that students come up with, relating to their specific majors or hopes for getting jobs in the near future. These students find creative ways to bring humor to their struggles to survive school or find a job after graduation, which is something most of their fellow graduates can relate to.

For those of you that are more artistic, there are no limits to what you can create with some paint. It's a good idea to sketch out what you would want to paint first or find a picture for reference before you paint your cap.

If you are thinking of decorating your caps and don't know where to start follow Island Photography on Pinterest and check out our board "Graduation Cap Ideas", where we've pinned some of our favorite decorated caps. Pinterest is a very good source for finding creative caps you might like. Your cap is your new canvas, use it well!
Our Pinterest Page:
https://www.pinterest.com/islandphotoinc/